MAGAZINE

BOLA ODUSINA

ISTO. London Series: Bola Odusina - Model & Content Creator
First of all, can you tell us a little bit about yourself; where you're based, why you chose to work in the fashion industry and what excites you about it?
My name is Bola Odusina and I'm a content creator and model from south London. I love working in the fashion industry and experimenting with classic style by adding a modern twist. There are always new brands and emerging trends to keep things interesting.


How have you been getting on with your ISTO. pieces since our shoot? Have you taken them on holiday or been wearing them on an almost daily basis?
I have been enjoying wearing the ISTO. pieces as they are really well made and very versatile. My favorite piece is the white seersucker shirt, as it is very easy to style and it works with everything. It is such a standout piece, I love the attention to detail. I have been wearing it frequently – it's been worn on holiday too in Tobago and also Madrid.
Can you tell me about the items you brought to the shoot? Why did you choose to bring them and what do they mean to you?
I brought one of my favorite accessories with me to the shoot, which is my gold necklace from Tiffany which I purchased a few years ago. It is a subtle piece, and the pop of gold elevates most casual looks. I like to invest in classic items that will last a long time. I am also big on sustainability, and not a fan of gold-plated jewelry so chose to go for 18k yellow gold. It is a sentimental piece as it was purchased on my birthday.
What advice do you have for someone who's wanting to build a more sustainable wardrobe? Where do they start?
I think it is important to invest in quality pieces that will last a long time. "A less is more" approach is something that I follow. There was a quote from Vivenne Wood that really captures the essence of building a more sustainable wardrobe 'buy less, choose well, and make it last.
What are your major gripes with the fashion industry today and how can we go about fixing them as individuals?
I would like to see more brands become transparent and focus on sustainability. Slow fashion is not just a trend, it would be fantastic for more companies in the industry to move away from fast fashion by creating more timeless pieces made from high-quality fabrics. This will help consumers to build a sustainable wardrobe.
What do style and dressing well mean to you?
Dressing well to me means being aware of your body shape and wearing clothing that compliments it. Proportions are so important when it comes to dressing well, it is vital for clothing to fit. This is something that is often underestimated, I often work with my tailor to alter the fit of my clothing to ensure I have the perfect fit. Once you have nailed the basics you can start to find a niche and look at different color palettes that work well. My style is minimal but proportions and subtle details are key. I think Jeff Goldblum, Nick Wooster and Pharrell Williams are guys who always dress well.
How important is brand transparency in this day and age?
Brand transparency is really and needs to be at the front of this consumerist world. Sustainability has been bought to the forefront of our vocabulary which is great and people are starting to make more informed decisions which is great. Knowledge really is power, and I think ISTO. tackles this really well by firstly being transparent and by making the information as clear as possible for people to read and digest.
What are your major gripes with the fashion industry today and how can we go about fixing them as individuals?
Unfortunately, the fashion industry really is the most unsustainable sector, with waste and carbon footprint being incomprehensible. We can start to combat some of these issues by shopping with transparency and with independent brands so that we can know the trail that our product has undertaken from the initial design to the end consumer. Having access to this can allow us to make a more informed decision.
What do style and dressing well mean to you?
Style and dressing well mean a lot to me, it's power in how you feel and hold yourself in front of others. In our house, we say 'you shouldn't leave the house unless you feel cool' and how you feel is how you set yourself up for the day and how you present yourself to the world.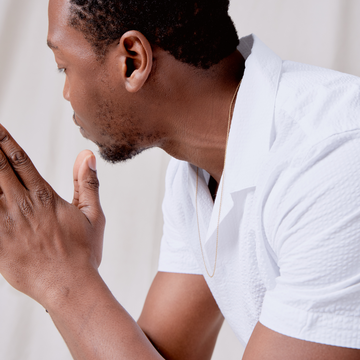 BE THE FIRST TO KNOW ABOUT NEW ARRIVALS, PROMOTIONS
AND SPECIAL PROJECTS AND RECEIVE 10% OF YOUR FIRST ORDER