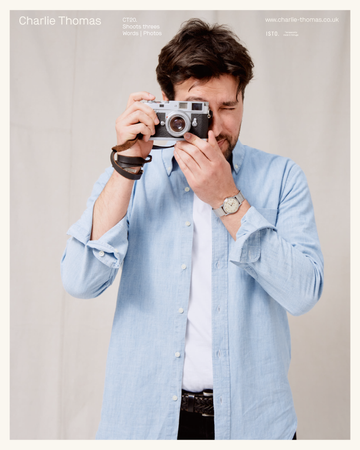 MAGAZINE

CHARLIE THOMAS

ISTO. London Series: Charlie Thomas – Writer
First of all, can you tell us a little bit about yourself; where you're based, why you chose to work in the fashion industry and what excites you about it?
I'm a freelance writer based in south London, although I grew up in Folkestone, Kent. I didn't strictly choose to work in the fashion industry, although a love of clothes has pulled me into it somewhat. A lot of what I do involves writing about nice things - cars, travel, architecture - and naturally, style comes into that, too. I've always been interested in how clothes can transform the way you feel. Put on a perfectly fitting pair of jeans, a new pair of trainers, or a good jacket and you instantly feel better about yourself. Or at least I do. Clothes can make you walk more confidently, feel more assured in a meeting at work, or more attractive on a date. That's a powerful thing.
How have you been getting on with your ISTO. pieces since our shoot? Have you taken them on holiday or been wearing them on an almost daily basis?
I've worn my pieces from ISTO. everywhere. They've seamlessly become a part of my daily wardrobe thanks to their simple, easy-to-wear designs. They're easy to dress up or down and complement each other beautifully. I've worn Breton tops to the pub on the weekend; the Oxford shirt to Goodwood Festival of Speed as well as interviews for my work, and I've taken the field jacket on holiday. The latter is especially useful for wearing through the airport thanks to the big pockets which hold passports, phones, wallets and anything else. I can put everything in there knowing it's all safe.
Is there one piece you've particularly enjoyed more than the rest and how are some ways in which you've incorporated it into your existing wardrobe?
Surprisingly it might be the Breton. It's perfect. The fit, the fabric and the build quality make it the best one I've owned. For that reason, it feels quite special every time I wear it, almost as though it was made for me. I also love the practicality of the field jacket. It's ideal for days out, either for work or pleasure. When I'm on a job interviewing someone or with my camera, I can use the large pockets as storage, negating the need for a bag and keeping my hands free.
Can you tell me about the items you brought to the shoot? Why did you choose to bring them and what do they mean to you?
I brought a few items to the shoot. My Clarks Desert boots, necklace, camera, black jeans and watch. The Desert boots aren't special in their own right, although they are getting old now. But they were the style of shoes that kind of got me into clothes. Although you can't see it, my necklace never leaves me. It was a gift from my brother and features a pendant with an insignia my dad wore on a ring. My camera is what keeps me sane. It's a Leica M2 from 1959 and while it's wholly unnecessary it brings me joy and is a form of therapy. Walking around with a camera in hand, composing a scene and looking through the bright viewfinder keeps me in the moment and stops my mind from racing, something I've always struggled with. It's also a beautifully made, purely mechanical object that will far outlive me, which I like.
In your opinion, what are the markers of a versatile and sustainable wardrobe?
If sustainability is about buying less, then buy things you really like. Buy the best version of the piece you want and you won't find yourself searching for another one and buying more. With versatility, I guess you want to invest in simple, well-made clothing that is easy to combine together. Have the odd statement or bolder piece of course, but combine them with a foundation of classic pieces you know look good together.
What advice do you have for someone who's wanting to build a more sustainable wardrobe? Where do they start?
Find styles that you really, really like, and buy the best you can. Buy a fairly cheap pair of leather boots and you might find yourself replacing them in a year's time. Before replacing those a year later. Spend a bit more from a brand that guarantees them or offers repairs, and you can have a pair that lasts well into a decade. The initial cost might be more, but in the long run, you'll actually be saving money. This applies to most other pieces of clothing too.
What ensures that a product – be it a garment or an accessory – ages well?
Quality of construction and fabric/material. Something won't age well if it's made on the cheap, from disposable fabric. Fit and comfort are also important because if it doesn't fit right then you likely won't wear it much and it won't 'age' at all.
How important is brand transparency in this day and age?
I think more consumers are demanding brand transparency, which is no bad thing. Most brands typically just charge whatever they want for their product, so those that disclose how much their production costs are as well as their markups arguably have some sort of an advantage over those that don't. It will be interesting to see if this filters into any other industries. How much does it cost, for example, to manufacture a luxury watch or a new electric car? How much of the final price point is just markup?
What are your major gripes with the fashion industry today and how can we go about fixing them as individuals?
I can't help but get annoyed when designer brands charge £400 for a T-shirt or £300 for flip-flops. The effort that goes into making these hyperinflated products is minimal, and they're often made in the same factories as many high street brands. I'm fairly confident that if said brands were to disclose the cost of making them, then fewer people would buy them as they might then feel ripped off. At the end of the day though the major gripe has to do with the way hundreds of thousands of workers are exploited around the world, getting paid very little to work unfeasibly long hours in poor conditions. I wouldn't say it's up to us as individuals to change that necessarily; rather the corporations and large high street brands are using their power to take advantage of these people.
What do style and dressing well mean to you?
I wouldn't say it means much in the grand scheme of things. But it's something I enjoy doing. Life can be difficult so if somebody gets a little bit of joy or can be made to feel good by dressing in a certain way, then that's a great thing.
BE THE FIRST TO KNOW ABOUT NEW ARRIVALS, PROMOTIONS
AND SPECIAL PROJECTS AND RECEIVE 10% OF YOUR FIRST ORDER