MAGAZINE

JOÃO CABAÇO
REINVENTS THE OXFORD
We didn't see this one coming, but it makes sense once you connect the dots. Let us explain. The first time we approached João Cabaço was because of his Instagram feed, a carefully curated collection of photos that displayed talent and, something the app doesn't allow you to filter in, a point of view. In a world of copycats and exibitionism, João seemed like his own man. Then this happened.
See, we had an idea. It wasn't actually our idea (thanks Thibaut!), but it was inspired by our product. We wanted to demonstrate the quality of our garments in the most dramatic way, while still being able to create beautiful content all around the world. Thibaut called it The Traveling T-Shirt. All of us responded enthusiastically to the concept of a shirt to be worn by a multitude of people, tested in different circumstances, its story told with time, bearing visual proof of the shirt as it was worn, until someone eventually wore it out. João told us he was en route to Australia. Perfect. We wanted this shirt to go as far away as possible and hopefully make its way back. 
The idea was and still is a lovely concept, but it was also a logistical nightmare for a small team such as ours. We immediately had trouble bringing it to life. Oh well, it's just one shirt. João is such a nice guy, we were positive he would put it to good use. We agreed we would do The Traveling T-Shirt sometime in the future and forgot about it. Until one day, João reaches out to us on Instagram and tells us about the slightly surreal journey of one seemingly irrelevant, none withstanding high-quality Oxford Shirt.
If you've made it this far, you deserve to know what happened. João is a hotel management student that wanted to experience the great outback and everything in between. That took him to Australia. Once he got there, he found a job. Nope, it wasn't in hotel management. It was in a shipyard, where João was to help repair vessels as pretty much anyone else. There wasn't an official attire, so João decided to get one. He had the perfect thing. An Oxford shirt, designed to provide ultimate comfort and last longer. That was the story of how an effortlessly elegant Oxford became the best work shirt we never imagined we had in our closets.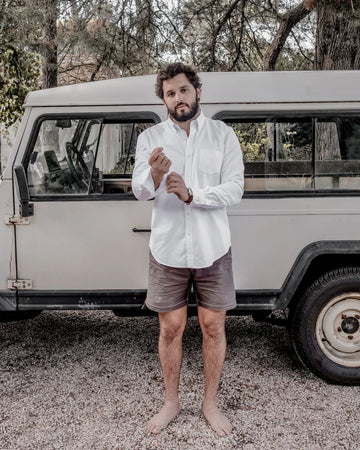 This is João wearing his beloved work shirt one last time before generously returning it to us, as a token of appreciation. It's also a true demonstration of long it lasted. Our organic cotton outlasted João's work adventure in Australia at the shipyard and lived to tell the story. It might look slightly wrinkled, but there's still a certain elegance to it. 
João met us in Cascais, his hometown, and drove himself to the meeting point in a dazzlingly beautiful UMM, a car most of you are too old to know about, a genuine piece of Portuguese automobile heritage, which made its way all the way from China, as per the imagination and grit of João's grandfather.
This is João's new Oxford shirt. To say he earned it is an understatement. What a genuinely awesome guy.
Go follow him on Instagram.
Photos: Pedro Gaspar
BE THE FIRST TO KNOW ABOUT NEW ARRIVALS, PROMOTIONS
AND SPECIAL PROJECTS AND RECEIVE 10% OF YOUR FIRST ORDER