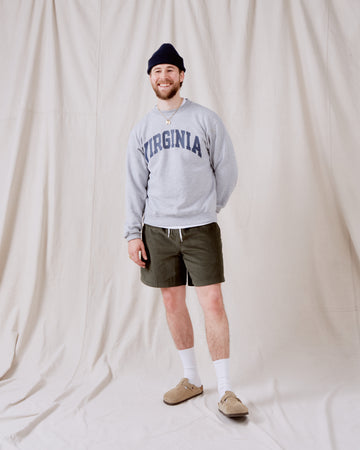 MAGAZINE

LUKE MARTIN

ISTO. London Series: Luke Martin – Photographer & Agency Owner
First of all, can you tell us a little bit about yourself; where you're based, why you chose to work in the fashion industry and what excites you about it?
I'm an agency owner and photographer based just outside of London. I kind of fell into the fashion industry through my photography – I was initially traveling and taking photos and grew my exposure on social which led to working with some really cool menswear brands. Over the past few years, I've managed to intertwine my photography and marketing work to primarily focus on the menswear industry.
How have you been getting on with your ISTO. pieces since our shoot? Have you taken them on holiday or been wearing them on an almost daily basis? Tell us what you've been up to with them.
I have been wearing them on the regular – especially the corduroy shorts! I flew out to America shortly after the shoot and they were my number one pair of shorts for the trip. They're incredibly versatile and comfortable.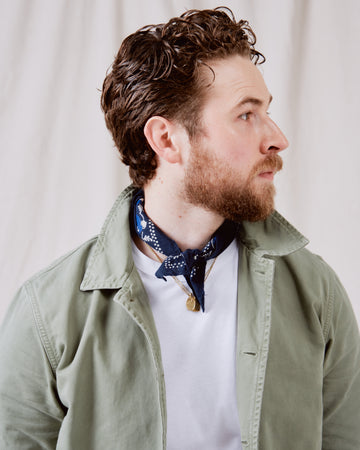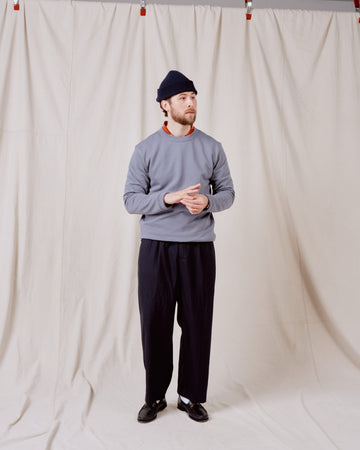 Is there one piece you've particularly enjoyed more than the rest and how are some ways in which you've incorporated it into your existing wardrobe?
As I just mentioned, the corduroy shorts in Olive Green have probably seen the most wear since the shoot. I found myself wearing them to the beach and then the next day to grab a coffee or go to the shops. I usually paired them with a pair of New Balance and a vintage T-shirt or oversized shirt.
Can you tell me about the items you brought to the shoot? Why did you choose to bring them and what do they mean to you?
I brought a mix of old and new favourites from my wardrobe, but all pieces that get the most wear on a daily basis. I usually start my looks with trousers and two of my favourite pairs are by Labour Union and Scott Fraser Collection. Scott's jeans are high-waisted and use an organic indigo dyed 16oz selvedge denim. My Labour Union trousers are cut from worsted wool in Japan, with front pleats and a wide leg.
In addition to those, I brought a vintage Virginia jumper gifted to me by my brother. We were both born in Virginia and my parents lived there for 8 years, so it has sentimental value in many ways.
In your opinion, what are the markers of a versatile and sustainable wardrobe?
To me, it's about having a few key pieces in your wardrobe that you can mix and match to look completely unique. They often set the tone of the outfit and can be reused time and time again.
What advice do you have for someone who's wanting to build a more sustainable wardrobe? Where do they start?
Identify your style first and don't try too hard. It's easy for people over think outfits and what works and what doesn't which often leads to an overconsumption of clothes. Once you've established your style, invest in the core pieces and build looks around that.
What ensures that a product – be it a garment or an accessory – ages well?
The right type of care for that particular garment or accessory will help it to age well. It's important for people to understand the makeup of their garments so they can wash, repair or clean them in the right way. Your clothes will last a lot longer if you knew a bit more about them.
How important is brand transparency in this day and age?
In my opinion, brand transparency is key these days. In order for more people to care about sustainable clothes and a sustainable way of living, we need more information. People need to be more educated so they can make informed decisions. Brands should place importance on their customers having to buy less but buying better. Investing in quality pieces goes a lot further and it's important to talk about.
What are your major gripes with the fashion industry today and how can we go about fixing them as individuals?
The speed and turnover of the fashion industry are something that has always bothered me. The rollover of a new trend after the trend is exhausting. I think as individuals and as businesses, we need to emphasize the importance of individual style over fashion and trends. Allowing people to build core wardrobes that are customizable, rather than a wardrobe that re-shuffles every month.
What do style and dressing well mean to you?
For me, they two have now become a part of my lifestyle. I look forward to getting up a selecting an outfit to wear, even when I'm working from home. I'm also constantly studying other people's styles to see how I can develop mine with what I have.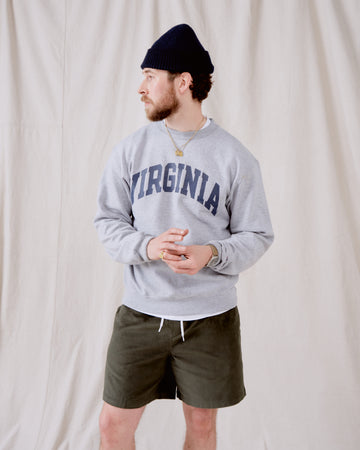 BE THE FIRST TO KNOW ABOUT NEW ARRIVALS, PROMOTIONS
AND SPECIAL PROJECTS AND RECEIVE 10% OF YOUR FIRST ORDER