MAGAZINE

TIME TO GO
EVEN SLOWER

With Summer, the-so-wished-slow-living culture happens to be at every corner. You literally find yourself dreaming about those days & nights surrounded by sun, nature, family, friends, food & drinks at every minute. We know it, we feel the same. Luxury simplicity, you may think - and you're absolutely right.
AMEN, PENSÃO AGRÍCOLA


This year, to materialize such thoughts and feelings, we head south to one of the many places in Portugal that allow you to feel the mundane but simultaneous outer-worldly feeling of escape: the area of Tavira and Cacela Velha (Algarve). There we met our lovely friends of Pensão Agrícola, a slowdown Hotel & Farmhouse that is the perfect crossroad of everything that is well done in Portugal. Simple luxury. The ambition was to clearly describe what summer essentials are at ISTO.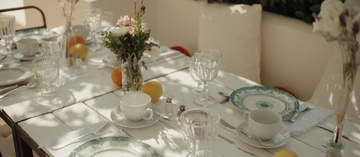 TAVIRA &
CACELA VELHA


To match our vision, we dedicated a morning to Cacela Velha, a picturesque clifftop fishing village - just 1.5km from the Formosa delta -, and a deserted beach that is one of its best-kept secrets. This time we could not eat the most amazing oysters at Casa da Igreja, but make sure you do.
BE THE FIRST TO KNOW ABOUT NEW ARRIVALS, SPECIAL OFFERS,
RAMBLINGS ON LIFE AND RECEIVE 10% OFF YOUR FIRST ORDER